Pressure Gauges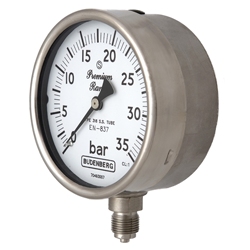 With 150 years of experience, Budenberg Gauge Co Ltd can readily design and manufacture high-quality pressure gauges for a wide range of applications and processes.
Whether you need a stainless steel bourdon tube with specific pressure ranges or require pressure readings for a custom OEM product, we have the product range and expertise to provide the perfect instrument to suit your individual requirements.
Budenberg Gauge Co Ltd is a premier manufacturer of instrumentation for Chemical, Food and Beverage, Oil and Gas, Petrochemical, Pharmaceutical, Power Generation and Transmission, Refrigeration, Water and Waste Water markets.
Quality and reliability have become the trademark of all Budenberg products and all our instruments are supplied with a minimum 1 year guarantee and carry a unique serial number for traceability purposes.
Budenberg provides highly specialised machined - to complete products for niche industries globally. Our resources allow for bespoke solutions from finished product to machined components.
Contact [email protected] for further information or for any other queries.