Not every company can say they had a major hand in the progress of the Industrial Revolution, but that is certainly a claim which could be made by Schäffer & Budenberg, as we used to be known. Based in the UK's industrial heartland of Manchester during the latter part of the 19th century, Schäffer and Budenberg became noted makers of patented vacuum, steam and hydraulic gauges.
In 1849, Bernard Schaffer patented the Diaphragm pressure gauge for his company, which was originally founded in Germany, before setting up a British Office in Manchester. Before this time, there was no accepted accurate method of measuring boiler pressure. It was the fast acceleration of growth in the steam industry that really saw the popularity of Schäffer diaphragm pressure gauges rise. This, in turn, underpinned the success of Schäffer and Budenberg, before the organisation changed its name to become the Budenberg Gauge Co, in 1918.
Schaffer Diaphragm Pressure Gauge by Budenberg Gauge Co.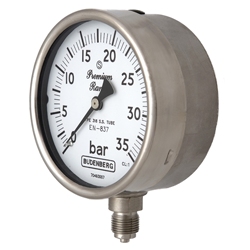 Bourdon Tube Pressure Gauge Gauge by Budenberg Gauge Co.
To this day, Schäffer diaphragm gauges have a huge range of uses in modern industry; primarily food, pharmaceutical and chemical. They are commonly used for reading low pressures in cases where a capsule gauge is not suited. For mediums containing solids, where a standard Bourdon tube could be blocked, a Schäffer diaphragm gauge is preferred. Schäffer diaphragm gauges can be used in working temperatures of up to 100°C.
In 1879, Schäffer and Budenberg also began manufacturing Bourdon tube gauges, which were to become the industry standard for general service. The Bourdon tube was invented by Eugene Bourdon in the mid 19th century at the height of the Industrial Revolution. It was first used for steam engines, before being developed for high-pressure industrial machinery.
There are many benefits of the Bourdon tube that make it just as relevant in the 21st century. The construction cost of the tube itself can be kept to a minimum, meaning savings can be passed on to customers by an accessible price point. The Bourdon tube can be used to measure vacuum pressure and is recognised for its superb sensitivity, high accuracy, and availability in numerous ranges.
Bourdon tube and diaphragm element: The differences
So what are the differences between how these two imperative implements work? The Bourdon Tube uses a pressure differential, hollow C-shaped spring tube. It transmits pressure directly to the pointer. On the other hand, with the diaphragm element, the pressure is transmitted via a wave-shaped diaphragm to a link and transfers pressure to the movement. For measuring low levels of pressure, diaphragm pressure gauges, with their starting measurement of 30 mbar, can be more suitable than Bourdon tubes, which have the lowest measuring value of around 600 mbar.
It is a testament to the quality of these two products that they have stood the test of time so well. In 2021, at Budenberg Gauge Co we can supply instruments, including Bourdon tubes and Schaffer diaphragm pressure gauges, covering ranges from 30 mbar to 4000 bar in a wide range of dial sizes, connection types and materials to suit all applications. Please contact us for details.