With the invention of the steam engine during the industrial revolution, there was a necessity to monitor and control the flow of steam to stop accidents from happening. Because of this, the birth of the pressure gauge took place.
Two pressure gauge designs that have continued to be manufactured for over 170 years are the Bourdon tube and Diaphragm gauge. Since the inventions by Eugene Bourdon (Bourdon tube) and Bernard Shaffer (Diaphragm gauge), there hasn't been a great number of revolutionary changes to the initial design of the pressure gauge.
It took the digital revolution in the 1980s and 90s to bring the digital pressure gauge into the world, which was a completely new way of measuring pressure.
The analogue pressure gauge has been in operation within industry since 1849. So why was there a requirement for a digital pressure gauge and what is the difference? This article will explain the advantages and disadvantages of both.
Analogue vs Digital Pressure Gauges
Fundamentally, analogue and digital pressure gauges are designed to visually display the pressure in a liquid or gas. The way this is achieved both mechanically and digitally could not be more different.
Analogue Pressure Gauges
The design of the analogue pressure gauge is based around the mechanical movement of either a bourdon tube or diaphragm seal which in turn drives a needle around a dial.
Advantages
Analogue pressure gauges are more affordable than digital pressure gauges.
They do not require a power supply.
Parts can be replaced relatively easily.
They can be easily installed.
The dial and needle are easy to read from a distance
Can be fitted with alarm contacts.
Can be used in a hazardous area.
Disadvantages
They are mechanical, which can lead to failure due to pulsation, vibration, shock, temperature, corrosion, etc.
They require recalibration from time to time.
Reading may be inaccurate if viewed at an angle resulting in a parallax error.
Difficult to read in low light environments.
Digital Pressure Gauges
Rather than using a mechanical movement from a bourdon tube or diaphragm seal, digital pressure gauges use a pressure transducer with the readings displayed on a digital display.
Advantages
A digital pressure gauge remains calibrated a lot longer than an analogue pressure gauge.
They perform well in areas of extreme vibration, pulsation, and corrosion.
The reading is clear and may have the option of a backlight if viewed in areas of low light.
Digital pressure gauges can be easily customised, the gauge can be set-up specifically for use with whatever process is required. For example, units can be displayed as bar, psi, or MPa.
A data log can also be made of the highest or lowest pressures which can be referenced directly or via a remote computer using a digital hydraulic gauge.
Disadvantages
A digital pressure gauge will always require a power source.
They are expensive to buy.
Digital pressure gauges require special certifications in certain industries and environments.
They may need to be replaced and calibrated more frequently than an analogue pressure gauge depending on what it is used for.
Example of a Digital Pressure Gauge
The Budenberg BG100 pressure gauge is a new microprocessor-controlled digital pressure gauge that offers high precision, stability, and functionality in a compact and robust solution package.
The gauge is powered by a long-life internal Alkaline battery and offers an auto-power off function in order to preserve the battery life. The sensor technology combined with advanced designed features results in a highly accurate yet affordable digital pressure gauge.
Supplied as stand-alone the BG100 offers a cost-effective solution for accurate process monitoring and control. A wide range of handheld pressure pumps and kits are available to offer a complete testing solution for maintenance or calibration routine.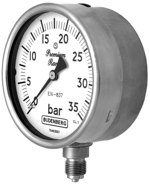 Example of an Analogue Pressure Gauge
Embodying an all 316 Stainless Steel construction, the 966GP incorporates a solid baffle wall and blow-out back for operator protection and standard features such as IP67 environmental protection, not normally available on comparative units.
An extensive choice of options can be fitted to any standard unit whilst fully customised units can be manufactured to suit any customer's requirements.
Monel wetted parts can be provided for customers who seek units to meet NACE-01-75 specification.
Digital and Analogue Pressure Gauge Comparison
| TECHNICAL SPECIFICATIONS | ANALOGUE | DIGITAL |
| --- | --- | --- |
| Accuracy Class Standard (of FSD) | 1% | 0.1% |
| Accuracy Class Optional (of FSD) | 0.5% | 0.05% |
| Mountings | Direct, Surface, Flush, Bottom & Back | Direct |
| Pressure Connections | 1/8", 1/4", 3/8", 1/2" BSP & NPT | ½" BSP |
| Power Sources | - | 2X AA size alkaline battery |
| Minimum Scale Ranges | 0-25 mbar | 0-850 mbar |
| Maximum Scale Ranges | 0-4000 bar | 0-2500 bar |
| Operating Temperature | -40 to +200 °C | 0 to +50 °C |
| Storage Temperature | -40 up to +100 ºC | -10 °C to 60 °C |
| Environmental Rating | IP67 | IP65 |
| Pressure Units | mbar, bar, kg/cm², KPa, psi | mbar, bar, kg/cm², KPa, psi |
| Display | Single or Dual scale dial 63mm to 250mm | LCD display, 16 mm height |
The specifications above are based on the full range of Budenberg Gauge Co. Ltd's pressure gauges, which are used within industry. Analogue test gauges that are used for calibration have not been included.
Which Pressure Gauge to Choose, Analogue or Digital?
The decision to purchase a Digital or Analogue pressure gauge is ultimately down to what application you are going to use it for. The chosen gauge will have to fit the specification and budget required.
For example, if an accuracy of 0.05%, 1/2" BSP connection with a direct mounting is required, a digital pressure gauge would be the best option.
If the operating temperature is anywhere between 50°C and 100°C and 1/4" BSP connection with a back mounting is required, an analogue pressure gauge would be the best option.
The Future of Pressure Gauges
Even though analogue gauges have been used for over 170 years there will always be a use for them within industry. Analogue gauges are easy to read from a distance.
In comparison, dial wristwatches have been around for 100's of years and are still popular today, even when digital wristwatches were introduced in 1972.
With improved manufacturing processes and the development of new materials, analogue gauges will continue to become more robust, reliable, accurate, and cost-effective.
As with analogue gauges, digital pressure gauges will become more technologically advanced , receive improved sensor technologies, and longer battery life.
If you have any questions regarding choosing an analogue or digital pressure gauge for your application, please contact the technical team at Budenberg Gauge Co. Ltd.